Spring is in full swing and it is finally warm outside. Take advantage of the pleasant weather by hosting a garden party, back yard barbecue, or a tea party in the sunroom. Food is the centerpiece of family and friend gatherings, so it's important to have something for everyone.
Appetizers like antipasto platters and satay skewers are fantastic finger foods that invite socializing and mingling. Our catering menu offers a variety of platters, so you can order online for pick-up and join the rest of your guests without the stress of wondering when (or if) the food will arrive.
If you prefer to impress your guests with your own carefully crafted creation, we encourage trying the following delicious recipes:
1) Greek Inspired Antipasto Platter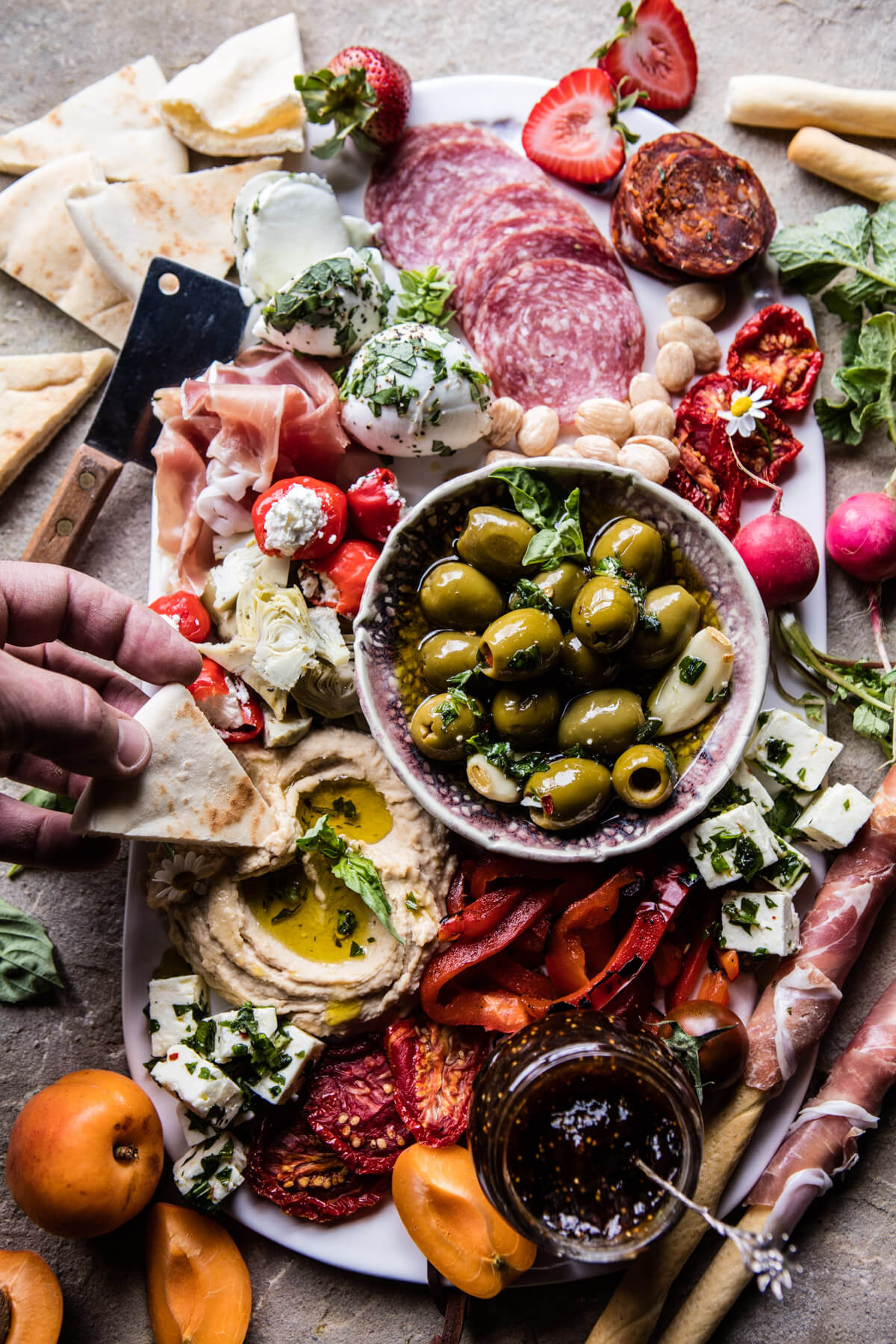 This antipasto platter from Half Baked Harvest has all the favorites of the traditional Italian version: deli meats, veggies, and mozzarella cheese, with an added Greek twist. Beautifully arranged sun-dried tomatoes, hummus, goat cheese, and pita chips fill out this cultural, culinary spread, including marinated feta and olives to enchant your guests' palates. We'd be remiss not to mention the apricots, strawberries, fig jam, and honey that'll appease those craving something sweeter.
2) Easy Antipasto Skewers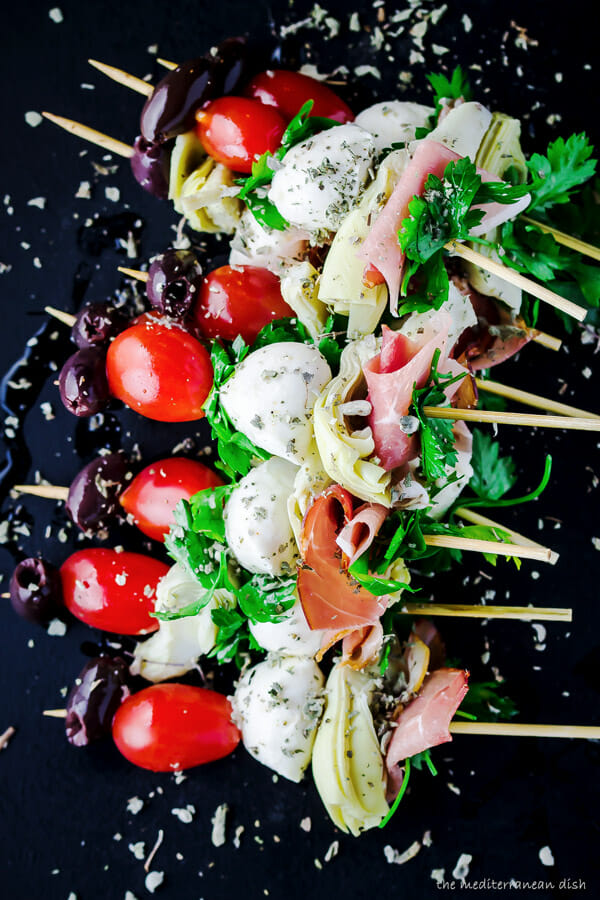 As the saying goes, "you eat with your eyes first." Ingredients such as those in The Mediterranean Dish's Antipasto Skewers are selected for their color and texture, in order to set the stage for dinner. Rolled or folded proscuitto is stacked on a skewer, followed by artichoke hearts, mini mozzarella balls, cherry tomatoes, and finished off with a Kalmata olive. Parsley or basil leaves are rotated on the skewer, and dried oregano is sprinkled on top for garnish, making this appetizer true beauty on a stick.
3) Honey Balsamic Steak Bites
Can an appetizer really deliver sweet, salty, and savory in one bite? Tip Hero's skewered steak bites have a deep infusion of flavor, thanks to the acidic nature of the balsamic vinegar in the marinade, which further tenderizes the meat. Sweetness is added through honey, saltiness with soy sauce, and finally, a savory finish with herbs and garlic. Marinade the steak for 1-4 hours, then pan cook to your liking. Use our handy Steak Guide to learn how to check the steak's temperature without a thermometer.
4) Bacon Bourbon Meatballs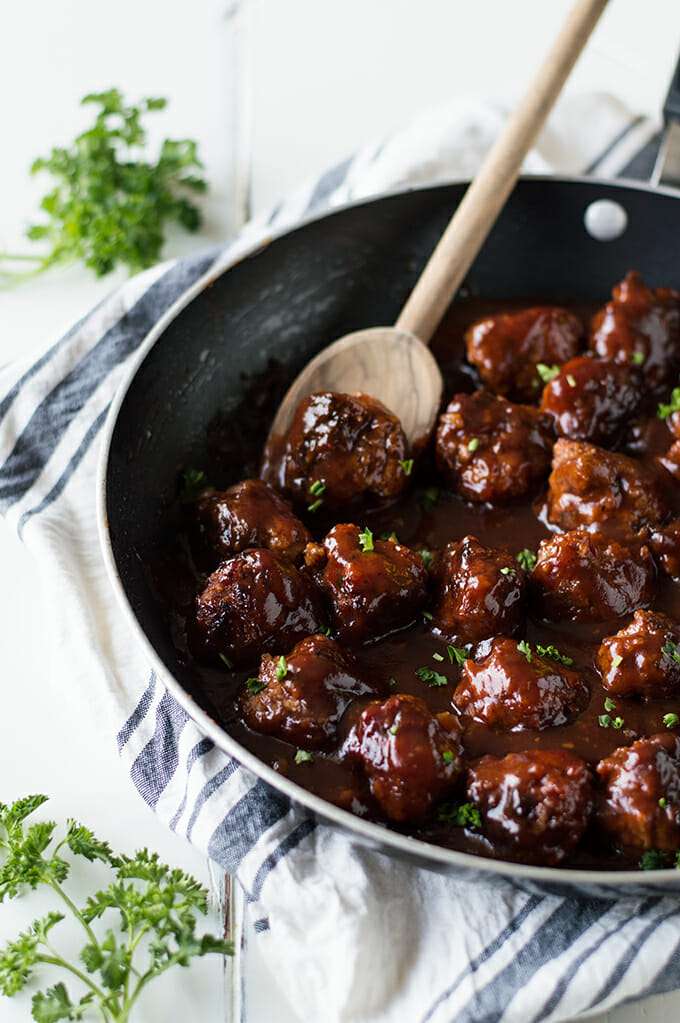 There's nothing tastier-sounding than alliteration, especially when bacon is involved. House of Yumm's Bacon Bourbon Meatballs are hand-formed from ground beef and bacon, then simmered in a pan filled with tangy bourbon-BBQ sauce. We love the zing of spice from chili powder. Toothpicks make these delicious bites the perfect no-mess appetizer, and the BBQ sauce works great in a tiny ramekin for your guests' dipping pleasure.
5) Thai Chicken Satay with Peanut Sauce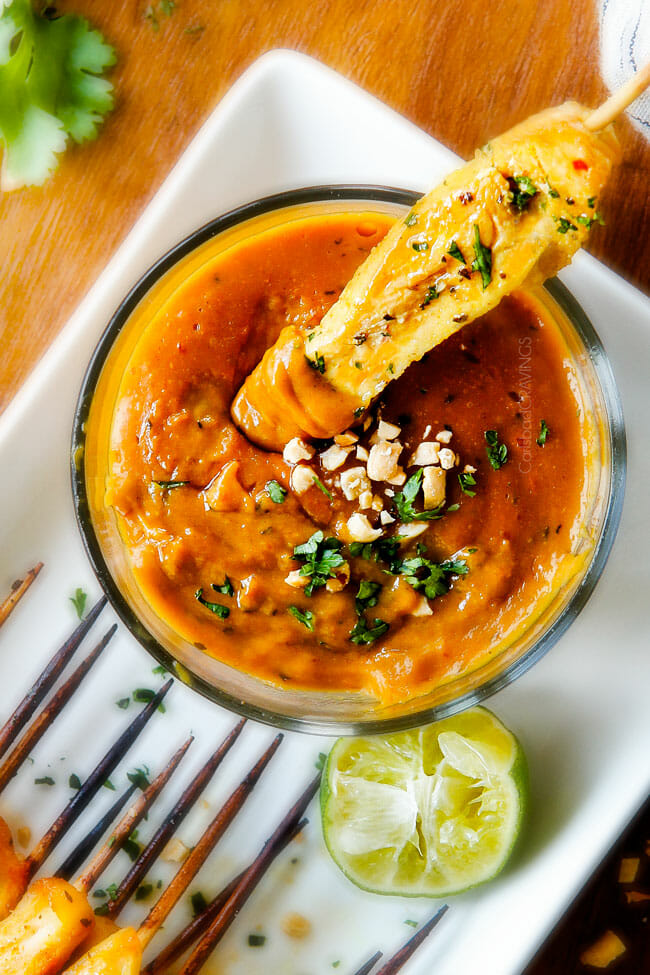 Baked or grilled, these chicken skewer appetizers from Carl's Bad Craving are sure to be a hit opening act. Soy sauce, brown sugar, tumeric, and coriander are just some of the mouthwatering ingredients featured in the savory sauce that will function as both marinade and base of the Peanut Sauce. The chicken requires a minimum 6 hrs of refrigeration in the marinade, but we promise it is worth the wait. Next, peanut butter is added to the remaining sauce after boiling. All that's left to do is for you to dip the chicken and enjoy.
Want more springtime appetizer ideas?
Stop by our store in North Andover. We're always here to answer your questions.
Follow us on Facebook, Instagram, and Pinterest to get the latest tips and know-how.